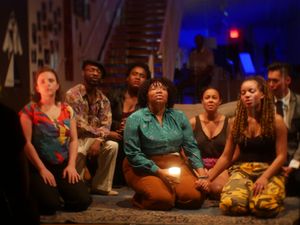 Clouds in the Kitchen
One Home. Five Decades. Clouds in the Kitchen is a multi-narrative, multi-generational musical piece about the history of a home. Inspired by the history of the Painted Bride, this piece explores the intersections between the home in our bodies, home as the house we live in, and home as the planet we are on. Weaving narratives from multiple walks of life, from artists to entrepreneurs, biological families to chosen ones, relationships to independence, the piece reflects and walks the path of a storm, creating the question: How do we adapt to our environment?
History.
In June of 2017, there was a little child named Io Alvarez-Orling who drew a picture for me while I was staying with the Alvarez-Orling family at their home in Nyack, NY. The picture was a beautiful scribble made of red marker. The child handed me the picture and said, 
"This is for you!" to which I said, 
"What is it?" Io replied, 
"It's the clouds in the kitchen!" What Io was actually talking about was a skylight on the ceiling in the kitchen of their home, where you could see the clouds through the skylight, but this memory then laid dormant in my brain for about two years, and boiled up to create this lingering image of people in a house where real clouds form inside of the house, and it begins to rain, filling the house to the top. I didn't quite know what it meant, or if it would come to reality, so I just sat on the idea. 
In May of 2019, I received an email from an old professor/colleague about an opportunity at the Painted Bride Art Center. This friend had informed me that even though the Painted Bride had planned to sell their building for well over a year, it was taking them much longer than they expected to get it sold. Because of this, they were looking for arts programming for the summer. I wasn't sure what exactly I was going to pitch to the Executive Director, but I wasn't going to let a producing opportunity slip through my fingers. Being where I was in my artistic journey, I felt ready to begin something new rather than continue developing anything already in my toolbox. Because of this, I decided to pitch this seedling of an idea Clouds in the Kitchen, inspired by both this child, the natural disasters that I've experienced growing up in the flood zone of Bloomsburg, Pennsylvania, and the history both known and not known inside of buildings. The Execute Director was basically like, "YES! But can you make this about artists?" and I was like, 
"Yeah!" and she was like, 
"Can you make this about the history of the Painted Bride?" and I was like, 
"Sure!(?)" Thus, I was commissioned to write Clouds in the Kitchen for the Painted Bride Art Center's building closing celebration.  
Coincidentally, the timing couldn't have been more perfect, as I was just given an artist of color subsidy to go to a Writer's Retreat at Tofte Lake Center in Ely, MN. So I went away, wrote a vague, quite simple first draft of what this show could be, and I brought it to a diverse, complex ensemble of artists, some close friends, others curious collaborators-to-be, and what would become of our rehearsal process was a flowering, beautiful reality that is Clouds in the Kitchen. 
The piece will be performed and produced with Tim Williams, Terran Scott, Cami Pileggi, Patrick Campbell, Arielle Beane, Sydney Banks, Josh Walker, Jillian Jetton, Larry Barnes, Lyell Hintz, Sabriaya MJ Shipley, James Landrum, Zachary Pun, Nick Hatcher, and Dalton Whiting. 
Special thanks to: Meg Walsh, Laurel Raczka, Keia Carter, Daniel Jones, and the participants at the Network of Ensemble Theaters' Exchange Lab in July of 2019 in Ely, MN.